You've heard it said that "everything is bigger in Texas," and that certainly is true. Texas is home to some of the best BBQ and the nicest people, and we pride ourselves on just that.
The Rig
, a name that signifies the Gulf Coast community and all it has to offer, serves the best drinks and open pit BBQ around! We are newly remodeled with a friendly atmosphere and great staff.
With our daily happy hour and drink specials you're sure to have a great time any time!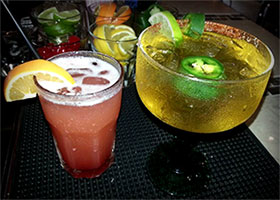 We feature Texas beers and Texas liquors with daily drink specials. Happy hour is every day from 12pm until 7pm and includes:
Mon - $3 Kamikaze - $4 Fireball
Tue - $2.25 Bottles (Domestic)
Wed - $1.99 Rita's
Thur - $2 Wells
Fri - $5 Vegas Bombs - $4 Fireball
Sat - $4 Calls
Sun - $6 Domestic Pitchers
We offer live entertainment every weekend! Starting with Karaoke Thursday, live DJ Friday nights, and a live band or DJ Saturday nights. We have 6 TV's to show almost any sporting events. We also sponsor a
free poker tournament every Monday night
starting at 7pm, with 1st, 2nd, and 3rd place prizes! Our bar has a lively warm atmosphere with awesome customer service.
Come join us and take advantage of our great selection of spirits, cold beer, and great BBQ!
No events scheduled at this time.